Five years ago, Phillip Wellman's on-field theatrics earned him an ejection — and a spot in YouTube lore. Now he's in Springfield, Mo., coaching the Cardinals and trying to make a new name for himself.

story by Zach Crizer / photos by Dan Oshinsky
published August 4, 2012
The Mississippi Braves third baseman struck out on a borderline call to end the top of the first inning. It was June 1, 2007, and the Braves were playing a regular series finale on the road against the Chattanooga Lookouts. The minor league hitter briefly questioned the call before grabbing his glove and heading over to his fielding position.
When he got there, the third base umpire scolded him for arguing. Braves manager Phillip Wellman, a veteran minor league coach who had previously managed Chattanooga for three years, hopped out of the dugout to intervene. The umpire, Wellman says, was speaking to his player in an unprofessional manner. Wellman said his piece and made his way back to the dugout without incident.
But Frank Burke, the owner of the Chattanooga Lookouts and Wellman's former employer, could tell tensions were high. Less than an inning into the game, he abandoned his seat and called the press box to let them know where he could be found.
"Look if anyone needs me, I'll be in my office," he told them. "I've got to get a video camera. Phillip's never going to make it to the ninth inning."
If only Burke had known how prophetic those words would prove to be.
¶ ¶ ¶


(At top) Phillip Wellman in his Springfield Cardinals uniform, five years after his infamous YouTube video. (Above) The original broadcast that aired on Chattanooga's WDEF-TV the night of Wellman's ejection.
¶ ¶ ¶
At the time, Phillip Wellman was just a 45-year-old minor league manager — and a rather anonymous one at that — proud of the work he had done to help players reach the major leagues in the Cincinnati Reds and Atlanta Braves organizations.
But that night in 2007, he inadvertently set off a craze that made "the guy who threw the fake grenade" a household name among sports fans — and nearly anyone with access to streaming video. Today, Google results for his actual name include YouTube videos entitled "Phillip Wellman blows up," and "One of the greatest manager ejection tirades in baseball history." Combined, these videos have been viewed more than a million times.
But in the five years since his infamous three-minute ejection, Wellman's learned to live with his not-so-secret identity. Today, he is a Springfield Cardinals hitting coach whose face doesn't draw autograph seekers or cell phone cameras. Most fans probably don't even know he's the manager from the videos. Here in Springfield, coaching the St. Louis Cardinals' Double-A ballclub, he's doing what he's always done: Coaching minor league baseball and moving toward his ultimate goal of one day making it to the majors.
Wellman doesn't shy away from his spot in Internet lore. He's up there with the Double Rainbow guy, and Boom Goes The Dynamite, and any of those other viral sensations.
So he talks about the video freely. He's not hiding from it.
He says that he wants people to know Phillip Wellman, a man who is more than just "that guy."
¶ ¶ ¶
Tempers flared with the third base umpire again in the second inning of that game in Chattanooga, Tenn., after the umpire once again made what Wellman considered an inappropriate comment to a Braves player. Wellman made his feelings known for the second time and returned to the bench. "As soon as I got back to the dugout, the next pitch was close, and I yelled, 'Where's that pitch?' Wellman says. "And he threw me out from third."
"Basically I was just defending my players," he says. "An umpire shouldn't be talking to players like that."
Wellman, a mountainous man with wide shoulders and rounded features, stormed onto the field. In the stadium's back hallways, Burke was running to get a better view. After hearing the ejection on the radio, he grabbed the camera off its charger and bolted out of his office toward the field. [1]
The lens was initially focused on home, where Wellman gave the plate umpire a piece of his mind before submerging home plate in dirt and drawing a much larger outline of the plate with his finger. Next, he made his way to third base, where he uprooted the bag and strode defiantly across the infield before hurling it like a discus toward the second baseman's position.
Turning his head toward the home plate umpire yet again, he took a few more steps toward the first-base line before he stopped in his tracks and shifted directions.
"It's like the old saying, if you get thrown out, you might as well get your money's worth," Wellman says now, lounging in a hallway outside the Springfield Cardinals training room at Hammons Field. "I just happened to look and the only thing between me and him was a rosin bag. And I just said, 'Ah, what the heck.'"
Wellman turned toward the pitcher's mound, then abruptly dropped to all fours. A determined look washed across his face and he Army crawled like a soldier wading through no man's land. He stopped at the base of the mound. There, he picked up the white, powdery rosin bag and acted as if it were a grenade. He pantomimed biting the pin out and then rose up from behind the mound to hurl the "grenade" toward the home plate umpire.
"The thing I do remember is when I got up and let that rosin bag go, for a split second I thought, 'Oh my God, I hope it doesn't hit him,'" Wellman says. It landed inches from the umpire's right foot.
Over the course of baseball history, managers have covered home plate with dirt before. Several have famously stolen bases — in the physical sense — and more than a couple have lost their hats, but nobody, until Wellman, had ever transformed the diamond into a theatrical rendering of a battlefield. "People have asked me, too, if I had that planned," Wellman says. "And I say, 'You think I'm that bored in my life that I sit around and script that out?' It just all came to me when I was going through it out there."
And that final moment of creative anger is undoubtedly what launched the tirade into the upper echelon of viral videos. "If I'd continued to walk off the field," he says, "it would have probably never made the news."
¶ ¶ ¶

Phillip Wellman, on Hammons Field after a come-from-behind win over Tulsa.
¶ ¶ ¶
Wellman did eventually leave the field, even giving the crowd a bow as he exited. He took a shower and found a place to watch the rest of the game. Afterward, Burke came to his office with a copy of the video and a blank check for whatever the Southern League, the Double-A league based in the southeast states, decided to fine Wellman for the ejection. The league decided it only warranted a $100 fine, and the president told him it would end up benefiting the league because of increased attendance. Burke and Wellman shared a laugh at the ballpark that night and then Wellman left Chattanooga with his team. That was, seemingly, the end of that.
But on the bus, Wellman got a phone call from his brother in San Antonio. "What the hell did you do tonight?" his brother asked. Wellman didn't understand. And that's when his brother explained: The ejection had already made it to the airwaves.
Wellman scoffed when one of his coaches suggested the video would be on ESPN by the next morning. It did make "SportsCenter," and it didn't stop there. Within hours, the video was airing on repeat on CNN.
The coach initially feared for his job, but he says his worries were quickly quashed when then-Atlanta Braves manager Bobby Cox called to assure him his place in the organization was safe. [2]
So there wasn't fallout within the Braves organization, but Wellman's still feeling the public after-effects of his 15 minutes of fame.
"They say 15 minutes," Wellman says. "I said this 15 minutes just keeps going, though. And when it gets going again is every time someone else does it." His video resurfaced on ESPN earlier this season when Toronto Blue Jays third baseman Brett Lawrie threw his helmet during an argument.
Queue the Top 10 list on "SportsCenter."
"I still get text messages every time it does and people text me, 'You're still No. 1. You're still No. 1,' because it always gets ranked," Wellman says. "And I guess it's good to be No. 1 at something, but that's not exactly what my objective was with that, being No. 1 at having a blow-up."
"It's like the old saying, if you get thrown out, you might as well get your money's worth. I just happened to look and the only thing between me and him was a rosin bag. And I just said, 'Ah, what the heck.'"
Friends were shocked earlier this summer when Wellman reminded them the five-year anniversary of that game in Chattanooga was approaching. Had it been five years already? Most people he told thought it had only been two or three. But he knew it was only fresh because of the numerous replays that had been shown of those same three minutes, the millions of people whose only glimpse into the life of Phillip Wellman involve a man vaulting himself onto BuzzFeed's "Top Seven Sports Coach Meltdowns of All-Time" list.
"It's obviously not my proudest moment in the game of baseball," Wellman says. "I've been in it for 29 years, and unfortunately some of the things I'm more proud of — whether it be team accomplishments, personal accomplishments or a player I managed, his accomplishments — those things will never get seen on ESPN or YouTube."
The Internet has a way, for people who become viral video "stars," of zeroing in on a fleeting moment and making it the lasting public image of a man's life. For Wellman, the three minutes of his life that seemingly everyone has seen don't even explain why he would throw a tirade. The umpire who drew his ire, he says, had been ruffling feathers across the league and ended up ejecting three more players from Wellman's team that night, almost unheard of in games that don't include bench-clearing brawls. By game's end, the Braves' backup catcher was playing third base.
But those who see the YouTube video don't see that part. So when Wellman signed as the guarantor for his son's college apartment, just a few weeks ago, the teenage girl in Alabama — calling to let him know the apartment was ready — had another question at the end of the brief conversation.
"Are you the Phillip Wellman that we can see on YouTube?" she asked. He always answers with a straightforward, "Yep, that's me." She told him her friends were baseball fans and she loved the video. She thought it was hilarious. But she wanted to know one more thing.
"What made you so mad?"
¶ ¶ ¶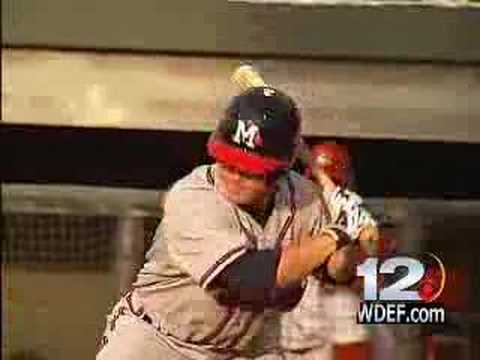 The WDEF-TV newscast from the night of Wellman's return to Chattanooga.
¶ ¶ ¶
In Springfield, Wellman is still working to change the Google results for his name. Of course, that's not exactly how he thinks of it. He has no problem acknowledging he threw the tirade, but he doesn't advertise it. He doesn't regret what he did — he was standing up for his players, he says — but he wishes all the people who have formed an opinion of him could know a little more about him.
"In the beginning, I remember some of my closest friends saying, 'Just give it a little while, it'll turn into something funny,'" Wellman says. "And it has. I think people that understand the game and know the game understand what it was about. People that have no clue about baseball don't understand any of it. They just see a raving lunatic making an ass of himself."
But even later that season, it had indeed become a bit of fun. When Wellman's Braves returned to Chattanooga, attendance went up as Burke's club played up the manager's fame with ballpark promotions. "Especially in minor league baseball, people went nuts. People loved it," says Burke, the Chattanooga owner. "They came back that year, and when they came back we gave rosin bags [3] to the first hundred people every night they were back. We had a contest out front where people had to get on their hands and knees and throw rosin bags at a dummy of Phillip [from] 60-feet, six-inches away."
And the baseball world understood Wellman's passion from the start. Burke says Wellman's players would "run through a brick wall for him." Wellman's Mississippi Braves made the playoffs that season and then won the Southern League championship the next season. He coached the Braves for a few more seasons before joining the Cardinals organization in Springfield last year.
Springfield, he says, is like most minor league towns. Here, he's able to do his job in relative anonymity. It's only when his name gets mentioned — and that happens maybe once in a blue moon — that a fan might smile and ask, Was that you?
¶ ¶ ¶

After years in the Braves organization, Phillip Wellman joined the Cardinals last year. He's the Springfield club's hitting coach.
¶ ¶ ¶
The Cardinals have just won an Aug. 3 extra-inning battle with the Tulsa Drillers, in walk-off fashion. The club is jovial, eating barbecue and watching the big league Cardinals on TV when Wellman enters carrying some gloves and a pair of sunglasses.
"Whose are these?" One player lays claim to the sunglasses. And Wellman begins walking away, "They're mine now," he says as the player leaps onto his back and jokingly grabs at the shades. He spills a little Powerade on the coach, but no temper flares. Instead, Wellman laughs and shoots a grin over his shoulder as he moves on to chat with another player.
"He's kind of laid back, actually," says Greg Garcia, the Cardinals shortstop sitting nearby. "He keeps the clubhouse loose and makes sure everybody's having fun." Garcia says he found out his coach was "the guy from the video" during spring training this year, but who would want to bring that up while trying to make the coach's team?
At first, nobody mentioned it. "The whole team was talking about it under our breath because we didn't know how he would take it," outfielder Jermaine Curtis says. "But once we got to know him, we found out he's really open about it, has fun with it."
Earlier this year, when "the guy who threw the fake grenade" made one of his impromptu "SportsCenter" cameos, the team was on the road in Arkansas. Garcia said the club huddled around the TV to see where Wellman ranked. "We knew he was going to be top three," Garcia says. And when the coach finally appeared on screen — Wellman was No. 1, of course — the Cardinals burst into a cheer. [4]
Burke, the Chattanooga owner, says the video is a pure display of passion, a moment on a baseball field that shows how much Wellman would do for his team.
"I've seen Phillip Wellman standing in the batting cage when it's 97 degrees working with a kid who will never play in the major leagues," Burke remembers. "And Phillip's there six hours before the game working with a kid. This is a guy who cares."
Curtis says Wellman connects with each and every player on the team. "Everybody has a weakness," Curtis says. "He tries to help you as much as he possibly can." And during his baseball career — 29 years all spent in the minor leagues [5] — Wellman has assisted in developing a laundry list of players who make the Top 10 lists more for on-field play than antics.
"My more proud moments in the game, in 29 years, may be the small fingerprints I've had in helping some guys get to the big leagues," he says. "I managed some pretty good guys in those years with the Braves — [Brian] McCann and [Jeff] Francouer and Jason Heyward, [Freddie] Freeman. And I come over here and you've got Matt Adams who got to the big leagues this year and Oscar Taveras."
He hints that he has aspirations of coaching in the big leagues, but he's visibly proud of the impact he has already had there. "That's our reward, for guys like me who are minor league lifers, is to turn the TV on and see Matt Adams in the big leagues and know you had maybe just a little bit to do with helping him get there."
"In the beginning, I remember some of my closest friends saying, 'Just give it a little while, it'll turn into something funny. And it has. I think people that understand the game and know the game understand what it was about."
While the videos of "the guy throwing the fake hand grenade" are accumulating hits every day, Wellman generally gets to be himself these days. After going back to his church, after seeing that none of the kids he coaches privately would drop him, after seeing that his daughter actually made some friends at Baylor University because of her father's moment, he started to loosen up about the incident.
Brett Wellman, his son, is about to begin playing college ball for Auburn University at Montgomery. He's sitting at his father's locker on this August night and has been traveling with the Cardinals, absorbing some of the club lifestyle. He says his dad has always had a flair for the dramatic on the baseball field, but the Chattanooga tirade left him speechless — well, it got him laughing, but he didn't really know what to say. His dad's moment of fame doesn't bother him in the slightest. It's more of a conversation starter.
"Every time my friends introduce me to someone, it comes up within five minutes," he says. "'Hey do you remember that guy?'"
After all, Brett says, it's not like he's crazy. People think he is a "psycho," but Brett says he was just "putting on a little show." The elder Wellman treats the tirade as if it were a statistic. "There's no reason to lie about it," he says. "There's no reason to run and hide. Because it's out there."
Still, he is part of a small group of people whose legacies will include viral video fame. "More often than not, if you hear my name, people associate my name with the guy crawling on the ground throwing a grenade," he says. "Hopefully I'll outgrow that some day before I die."
Since it is such a recent phenomenon, it's hard to tell exactly how it will evolve, but Wellman's son doesn't think the video is going away. "My son said one day, 'You know Dad, you ever thought about that after you die, I'll probably still see that on TV?'"
He's probably right, Wellman says, but the Cardinals hitting coach isn't shying away from cameras or the baseball diamond. He says he's learned to present himself in a way that he is proud of. But when ESPN called to ask what he had been doing in the five years since the tirade, he told them that he had been doing the exact same thing he was doing before: coaching baseball. And it seems that he'll probably have the same answer in another five years.
"People have asked me, 'Are you ever going to do something like that again?' And I say, 'You saw it once. That's enough,'" Wellman says. "Don't get me wrong, I'll manage again, and I'll get ejected again. I just won't put on a show again."