Juli and Shawn Matthews run Swagbot, a clothing store that's quickly becoming a hub for culture in Springfield. But for these entrepreneurs, the story of their business is one of trial and error, small victories — and the friends who've carried them to the brink of something really big.

story by Dan Oshinsky / photos by Dan Oshinsky
published June 19, 2012
Those best-selling business books, all those Forbes covers and Harvard Business case studies, they never tell you just how strange and awesome failure can be sometimes. Sure, they glorify the tinkerers who build billion-dollar computer companies in their garages. They praise the bootstrappers who scrap their way to the first million.
But they never start with something like this: Juli and Shawn Matthews cleaning up a meth lab, trying to figure out how to make an honest buck.
They'd been through enough homes, Juli and Shawn had, to know what was right and what wasn't. A few months earlier, they'd started a company called NeatKing, a business that promised that there was "no job too odd." It was a simple business with a simple plan: Whatever people in the Ozarks needed done, Juli and Shawn could do.
Need a light bulb changed? Sure, we can do that.
Need a garage cleaned? Sure, we can do that.
Your parents died, and you need someone to come in, repaint the home, liquidate the assets of the house and steam clean the carpets? Well, the slogan on the website says "no job too odd," doesn't it?
All Juli and Shawn had created for NeatKing was a spartan, self-designed website. They figured that the business might be a nice way to make a buck or two while they figured out what they really wanted to do in their new city. They didn't spend a dollar on promotion.
A month later, they couldn't keep up with all the business. Someone would Google "Springfield painting," and NeatKing would show up on the first page of results. Soon enough, homeowners — many of them living out of state — would call Shawn and set a price. Then they'd FedEx over the keys. Shawn and Juli would enter the homes alone. They'd charge a few hundred dollars for a painting gig. Then Shawn would call back and say, Hey, we noticed your kitchen is a bit messy. Would you like us to re-organize it? And maybe repaint your deck while we're at it? Suddenly, a $300 job could turn into a $3,000 job. Shawn discovered a simple lesson of business: If you call back, you often get the job.
And then came the job in Fair Grove, a city about 15 minutes north of Springfield. The sheriff had evicted the residents from the property. The landlord was in Michigan. He needed the place cleaned out and readied for remodeling.
The Matthews' showed up on the property, and Shawn had one thought: This place is a meth lab.
Or maybe a doomsday bunker.
Ordinary homes don't have ammunition scattered around the living room. Normal families don't keep welding kits on the property.
This home did.
They knew they were walking into trouble. They were entering homes unaccompanied, and they knew there was a chance that something could go wrong. Their simple solution: take photos of the home before, during and after the jobs, and send those photos to clients.
Nothing had gone wrong yet.
Juli had some experience working in clients' homes, too. In 2003, she started a small organizing business in Los Angeles. She'd come in and teach clients how to make their closets and kitchens less messy. She'd set up her own website for that business, too, and kept her own books. The business made some money, but she shut it down a year later to try something else.
Still, that experience hadn't prepared her for anything like the home in Fair Grove. Juli and Shawn had started NeatKing to change a lightbulb or two, not to clean up after meth dealers. If something went wrong — if they broke an appliance or wrecked a wall or accidentally fired a small cache of weapons into the garage — they feared that the landlord might sue. NeatKing never asked clients to sign a contract before work started, Juli says, so there was no legal protection there.
NeatKing was a sole proprietorship, the business tied to their social security numbers. In case of a lawsuit, their personal assets might be at stake. [1]
What was worse: NeatKing was registered to Shawn's mother, Shirley. Hers could be the assets on the line.
Without the legal protection of a more formal business structure, like an LLC, the pair admits now that they were exposed to significant liability.
"After the fact, when you're looking back, you think, 'How stupid could I be?'" Juli says. "But when you don't know, you don't know."
"We're lucky that nothing happened," she adds.
The couple decided to shut down NeatKing after just a few months of operation. "We were exposed to too much liability," Shawn says. "Even though we were making good money, it wasn't worth the risk." They agreed to revisit the idea later, when they could better think through the business.
¶ ¶ ¶

A collection of custom T-shirts and apparel recently made by Swagbot.
¶ ¶ ¶
What Juli and Shawn had stumbled into was something common among new entrepreneurs: a feeling that they were in way over their heads. They didn't have extensive business experience to guide them through dangerous times; they didn't have the business structure or systems in place to protect them when things went wrong; they didn't have the advisors or outside help to get them out of tricky situations.
In Springfield, there are businesses and groups in place to help entrepreneurs and business owners through those tough times. The Small Business & Technology Development Center at Missouri State University works specifically with small businesses to offer advice and training. There are businesses like BizPros LLC, a Marshfield-based consultant that helps new businesses plan, finance and keep track of their startup life. There are groups like The Network, a Chamber of Commerce-run group for young professionals in Springfield.
But at the time, in the fall of 2007, when NeatKing was just getting up and running, Juli and Shawn didn't know where to turn.
Still, they knew they wanted to start something together. Theirs had always been a relationship where the next step seemed clear. They met online 10 years ago this week. Exactly a year to the day after they started dating, they were married. No reason to wait when you know what you want, they figured.
They lived on the West Coast for a while — Juli is from San Jose — and then moved to the East Coast.
"At that point, we knew we wanted to start a business, and we'd tried a couple of things," Shawn says. "But the East Coast being what it is, you have to have a lot of capital to stick out. It's hard to bootstrap a business, especially at that time. We're talking about a couple of years before Internet tools were ubiquitous." Setting up a website was a lengthy process that usually required hiring a designer. Online accounting tools like Quickbooks and Freshbooks weren't yet on the marketplace.
But they had lots of ideas. Shawn's always had ideas. He's the one running 100 mph, dreams and ideas and businesses always percolating in his head. The words "high energy" don't quite explain Shawn. This is a guy who's been in bands, who's done graphic design, who's painted homes, who's sold T-shirts, who's written radio ads and reality-show pitches. He's led a Forrest Gump sort of life, if only Forrest had lived as if it were being filmed for a Five Hour Energy commercial.
Juli's the grounded one. While Shawn's busy dreaming up a plan that's five years off, Juli's the one keeping tabs on today's business, today's customers. Shawn's thinking about an integrated platform for a neighborhood built around their collective interests; Juli's thinking about paying off sales tax and designing a new storefront.
But together, with Shawn's head in the clouds and Juli's feet on the ground, they thought they had a pairing that could go places in business. That gave Juli the courage to try again, even after her solo organizing business had shut down.
"The idea of doing something with Shawn versus doing something by myself," Juli says, "it just seemed a little less daunting."
Then came a happy accident.
¶ ¶ ¶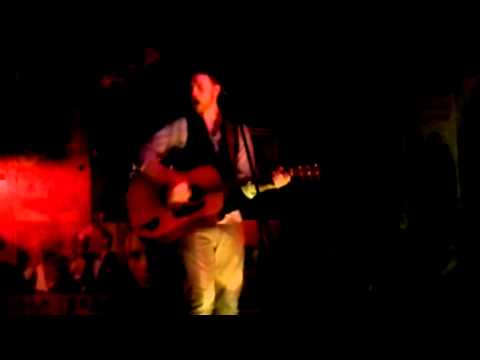 A performance of 'Find You,' a song co-written by Shawn.
¶ ¶ ¶
Shawn was on the road with a new band, an artist named Andy Zipf. Shawn wrote some songs with Andy and helped manage the business behind the band. This was the mid-2000s, before NeatKing, before Juli and Shawn moved to Springfield.
Shawn's biggest headache was ordering T-shirts. They'd go on the road with 50 or 100 shirts, random sizes and colors and designs that he'd picked out in advance. He never knew how much of which shirt to order.
So Shawn tried something different: He built his own T-shirt lab. He bought a heat press, brought some shirts on the road, and would custom-make shirts right there at the concert venue. Show up, select a design you want, pick your size and color, and Shawn would have a shirt to you before you left the concert that night.
Word about the T-shirt printing experiment started to spread. He'd be on the road and get an email. "Are you coming to such-and-such a place? Are you bringing your T-shirt lab?"
Then the next step: He'd be in a city and people would ask him to come to their kid's soccer game to print shirts. That's when Shawn had that A-ha! moment: There are infinitely more restaurants/soccer teams/brands than there are bands, he realized. Maybe there's a business here that could cater to them. So Shawn went and bought a domain for the nascent business idea. He called it swagbot.com. [2]
But he didn't act on the idea just yet.
In 2006, he left the band. Juli came to Springfield in February 2006. In 2007, Shawn followed. He'd grown up nearby, in Strafford, Mo. That fall, a few months after Juli and Shawn launched NeatKing, they decided to use other savings to start a more stationary T-shirt lab. They called it Swagbot. Shawn bought another heat press online. They set up shop in a spare bedroom in Shawn's mother's house, on the south side of Springfield.
¶ ¶ ¶
Juli and Shawn were spending most of their free time at The Coffee Ethic, then a new coffee shop in downtown Springfield. [3] The Coffee Ethic represents the neighborhood coffee shop that Starbucks seems so eager to copy. The Coffee Ethic does all its coffee made to order. Its beans come from a grower in Topeka. Its walls feature pictures of local farmers. It sells ironic T-shirts that say, "Springfield… The New Portland?"
Those shirts are Swagbot's actually.
Tom Billionis has known the Matthews' almost as long as The Coffee Ethic has been open. Billionis owns the store, and one day, maybe four years ago, he got into a debate with a customer about the music playing at The Coffee Ethic. The customer was Shawn.
They got to talking about Shawn's business, still just a heat press and some shirts at his mom's house. Billionis didn't see it that way, though.
"They didn't have four walls downtown, but they were based downtown," he says. "They spent all their time here. They patronized the businesses down here. So to us, they were neighbors. They were also customers. So to do business with people who liked what we were doing and understood what we were doing was significant."
Swagbot also offered something that no one else in town could: custom Coffee Ethic shirts, made to order just like Billionis' coffee. Juli printed up some order forms, and customers could pick color, size and design and pay at the Coffee Ethic counter. A day or two later, they could come back and pick up their new shirts. A popular seller was a shirt featuring a robot holding a cup of coffee over its head. The shirt was drawn by a Coffee Ethic customer. [4]
What Juli and Shawn discovered was by hanging around The Coffee Ethic and doing their design and order work from the shop, they could quickly integrate themselves into the Springfield community. A customer would come up to Billionis and ask where his funny shirts were made, and Billionis would point to the table where Juli and Shawn were sitting. Go talk to them, he'd say. The shop served as Swagbot's home base, the place where the Matthews' could start connecting with their own fans and customers.
"They understood the significance of the relationships that they could build in here," Billionis says.
Still, Swagbot was a tiny business. Its clientele consisted almost entirely of customers at a small coffee shop in Springfield. Its formal office was a bedroom at a parent's house.
But it had something else: a product that customers really seemed to respond to.
¶ ¶ ¶

An "I Heart DTSGF" shirt in the Swagbot window display. "DTSGF" is short for downtown Springfield.
¶ ¶ ¶
In the meantime, as Swagbot started to sprout legs and stand on its own, Juli and Shawn were trying to learn from their mistakes with NeatKing and other previous startups. A handful of business books piqued their interest. One, "Rich Dad, Poor Dad," got them into the idea that having a proper team of advisors could help their business grow. Juli and Shawn have always had the sort of ambitious business dreams that don't typically get associated with people who sell Fruit of the Loom products, and getting advisors on board seemed like the next step in moving forward toward those dreams.
So Juli and Shawn started searching for their team.
Among the first additions was Jane Reed, a commercial insurance advisor at Great Southern Insurance in Springfield. She'd written the insurance policy for The Coffee Ethic, and so Juli and Shawn came in to discuss insuring Swagbot. To start, they needed general liability insurance and property insurance.
The one thing Reed noticed right away: Juli and Shawn were unusually interested in getting the right insurance policy, not just the cheapest policy. She thinks that false starts from previous businesses made them more willing to listen.
And then there was Shawn. Reed says she was surprised that someone so full of energy typically produced plans that were thoroughly thought out, and asked the kind of questions needed to improve those plans.
"Shawn is probably the truest entrepreneur that I've ever met, because he really isn't afraid to get out there and think outside the box — and sometimes way outside the box," she says. "But I think that that's why they succeed."
Having that team of advisors hasn't hurt, either. Swagbot started with a lawyer who dealt with business paperwork and contracts, and another for intellectual property work. They also hired an accountant. When they moved to their first location in 2008, a 400-square-foot space on North Main Street, they hired a lawyer to deal with real estate.
In 2009, Juli and Shawn bought a local vintage store, Vintage Vice, and moved Swagbot into the Vintage Vice location on Campbell. With each move, each merger, each strange idea, they've gone back to the team for guidance.
"Shawn is probably the truest entrepreneur that I've ever met, because he really isn't afraid to get out there and think outside the box — and sometimes way outside the box. But I think that that's why they succeed."
Some of the Matthews' business moves have been stranger than others. One summer, Swagbot opened an ice cream cart within its store. That meant that it needed a new insurance policy to cover the cart. It also needed to pay licensing fees, secure food permits and pass a health inspection.
"Business is an experiment," Shawn says. "It's a constant state of experimentation." The ice cream cart was certainly a step outside the box, but they found that it wasn't a direction they wanted to go. The headaches outnumbered the profits. Juli and Shawn closed it after a single summer.
That hasn't stopped Swagbot from continuing to test out new ideas. They try to learn from the bad ones. The good ones, they take and grow into something big.
"They weren't afraid to take the small step first," Reed says. "The dreams are out there. But how many of us have those dreams and are afraid to take the first step?"
The Vintage Vice purchase was one big step that's led to success for the Matthews.' Customers really responded to a store that combined vintage items and custom-made T-shirts. [5] In 2011, after their first year without a move or merger [6], Juli and Shawn made a big leap: They opened a new storefront at a downtown location on Walnut. At nearly 3,000 square feet, the property is their first in which walk-in customers are commonplace. It's a different space than the one they started off with, but there's plenty that's remained the same.
Early on, the two set the business model for Swagbot, and that's still their model today. The company specializes in small orders of custom T-shirts and apparel. Typically, locals and businesses bring in a design, and Swagbot prints it. Small orders get turned around in less than 24 hours. Larger orders get finished within the week. [7]
And while most orders are for anywhere between one and 15 custom items, customers sometimes do ask for larger items. Shawn remembers one customer who needed 8,000 bags made, each bag with a unique design. The customer wasn't sure if anyone would be willing to tackle an order as unwieldy as that, but Swagbot made it happen.
The response to the new store has been overwhelming, Juli says. Brands have spent many millions of dollars to build the sort of following — and future — that Juli and Shawn have created somewhat by accident, and by tapping into the things and people they already love. Customers come into the store excited to make that T-shirt for Father's Day or a bachelorette party, or they walk in looking for a shirt featuring one of the designs on the Swagbot wall. Customers look genuinely happy to hand over their money at the cash register.
"I walk around the store now, and I'll just say, it makes me happy," Juli says. "It's beautiful, and it's not done yet. But it makes me proud." She remembers where they started, with just a bedroom office. She remembers what the new storefront looked like in October. Now it's starting to become something big.
"I like where we're headed," she says.
The short-term future for Swagbot looks promising. On top of Swagbot's retail business, Shawn's been working on something he calls Swagbot Creative. He writes radio ads, does branding work, even produces videos for clients. There are a half-dozen clients right now, he says.
This year, the T-shirt side of the business added its first employee, a part-timer. Hiring that employee meant new headaches — more government paperwork [8], and adding worker's compensation insurance to the mix — but it also meant that for the first time, Swagbot can start to move towards a future in which it can operate without a Matthews present.
Think of it this way, Shawn says: "We're trying to grow businesses, but what we have now is jobs." They can't leave work, and they can't take vacation. They can't afford to get sick. They work six days a week. If they stop, Swagbot stops.
The next step is to build the Swagbot business infrastructure and grow the company beyond them. Maybe there could even be franchises in the not-so-distant future, they think. What Juli and Shawn have found of late is that this T-shirt company with a funny-sounding name might soon be taking them places neither of them could have really expected.
"I walk around the store now, and I'll just say, it makes me happy. It's beautiful, and it's not done yet. But it makes me proud."
"We can see a time when there are five Swagbots across Southwest Missouri, across the Midwest or tri-state area," Shawn says. "We can see one in Fayetteville, [Ark.,] we can see one in Manhattan, Kan., maybe even one in K.C. [Kansas City] or St. Louis. That's a realistic goal, because we've been building systems to order and promote and market and do all the things we need to do. All those things can be taught to other people."
But until those new staffers and stores are added, it's really up to either Juli or Shawn to make the business go. Juli's focus is on the past and present of Swagbot, particularly bookkeeping and dealing with current customers. Shawn's focused on the future — plans, expansion and clients. Juli says they'd love to work together more, but they don't have time. They tend to operate in the same space, but sometimes, it seems like they work in different worlds.
"There's so much that goes into it, between the marketing and bookkeeping and invoicing and the actual work…" she says. "We're essentially doing seven jobs with one or two people. I feel like I can't ever keep up." But she says she's learned what has to happen today, tomorrow, next week — and they're building a structure to stay sane and stay on track. Without it, she says she'd spend more time managing her business than actually running it. "It's a juggling act, for sure," she says.
One day, they'd like to be able to travel, to be able to leave the business for a few days and not have to worry about paying the mortgage.
And then there's this one other dream.
¶ ¶ ¶
This is the part where, Shawn says, people usually freak out.
Shawn dreams of a future — maybe it's two years away, or five, he's not sure — when Swagbot will be able to expand to a facility where people can work, live, play and eat. It'd have residential housing, a cafe, a recording studio, an urban farm and, naturally, a Swagbot retail outlet. It'd all be contained within a single facility, an Epcot-like place that could be built in downtown Springfield.
He calls it Swagbot Farms.
This isn't what's on most customers' minds when they pop into Swagbot to get a shirt made for their workplace or a bachelorette party. They don't even know that Swagbot has such ambitious plans in the works. But it's been on Shawn's mind for more than six years.
"Every single thing we do might seem completely unrelated, but we have a — I mean, I have a very specific goal, which is basically to wake up, walk out of wherever my residence is, on this property, and go make a record, go take pictures, go watch people make T-shirts, go talk to a client, eat at my cafe," he says. "That's the building I want. It's a lifestyle."
The idea is built around a term that Shawn calls "nerdiculture." In a nutshell, nerdiculture is everything Shawn is interested in: music, design, food and urban agriculture. He's tapped into all of these local communities, and he sees Swagbot Farms as the nexus of them all.
Michelangelo looked at a block of granite and saw David. Shawn looks at empty warehouses in Springfield and sees an original community built around everything he loves — the physical manifestation of all of the work he's already done in Springfield.
"In a lot of ways, they're way ahead of the curve, which sometimes is tough in a city that's slow to change," says the Coffee Ethic's Billionis. "You see what you want to do, and you know it can work…. And it's frustrating because it doesn't happen as quickly as you'd like…. I think they do a good job of pushing that and trying to get people moving forward."
Swagbot Farms represents a new future for Springfield, one where locally owned businesses and locally grown food can come together in a single space. For decades, Springfield has struggled to revitalize its downtown. Now there are new businesses like Swagbot and the Coffee Ethic, bringing new entrepreneurs and new customers downtown. Springfield's traditionally been a blue-collar town, but these stores are bringing a different vibe to the Ozarks.
Michelangelo looked at a block of granite and saw David. Shawn looks at empty warehouses in Springfield and sees an original community built around everything he loves.
In the heart of a city more familiar with hunting camouflage than hipster T-shirts, Swagbot Farms represents a fresh vision for Springfield.
Billionis sees the facility as a logical step in the growth of the city. His store and Swagbot both have loyal customers who come from all walks of Springfield. Swagbot Farms is an extension of that community — just on a much larger scale, and contained within four walls.
Even Juli — once a skeptic of the project — says she's starting to get a handle on how something like this can get built. She points to their current location, which features a photo studio in the back. That's been a success, and she thinks it can grow into something bigger.
Shawn, always the dreamer, feels like the momentum for the project is really starting to build.
"It's not a matter of if it happens but when, and how long," Shawn says. "I'm getting older by the day, and I wanted it to happen five years ago. It wasn't time. Now it's time."
There are still a number of obstacles in Shawn's way. Getting insurance is one. [9] Finding financing is another. Finding a designer to plan out the community is another.
But he's starting, as he always has, with small steps. The first was getting closer to the local farming community. He wooed a local farmer's market over a period of months. Now Swagbot's providing apparel to both the market and many local farmers.
It's those relationships, he says, that will provide the backbone for Swagbot Farms.
And it's the business sense, the prior failures and the team of advisors that make something like Swagbot Farms more than just a crazy dream.
"I like seeing people like Juli and Shawn growing, and I feel honored to be part of that team, to be able to go on this journey with them," says Great Southern's Reed. "Because I don't think they're done. I don't think it's anywhere close to being over. As long as it's Shawn there, sitting at his computer at the Coffee Ethic, there are going to be bigger and better things coming."